Happy Breastfeeding Awareness month! You might not be seeing that on any Hallmark cards this month, but there it is. Are you aware?

I came across this article online the other day and it really got me thinking. The Reader's Digest recap is this: A small parenting magazine printed a picture of a baby breastfeeding on their cover and lots of people, including mothers of small children, freaked out.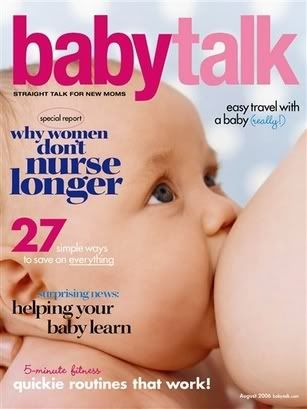 It's no secret that breastfeeding is a complicated issue in this country. Americans have a pretty strong puritanical streak and we get all weirded out about anything involving sex. We can watch all kinds of gun fights and implied rape scenes on TV, but please, for the love of god, keep the sex on the Playboy channel!

Personally, I look at this photo and I think it's beautiful. I can only imagine the feeling of holding your baby close to you, of being that connected to another living being. That's probably really romantic, but hey, I've never had a newborn baby to try and raise. Would I want to whip out a breast and partake of that closeness in the food court at the local mall? It might not be my first choice, but with a nursing bra and a light blankie to drape over myself, I don't see why not. I certainly wouldn't want to banish myself to the smelly, not-so-clean, crowded bathroom to feed my hungry baby. Talk about insulting and unsanitary.

Like so many other things about a woman's body, breasts are more than their outward appearance. They are symbolic. Whether you need a sturdy amount of under-wire or can go braless while jogging, those mammaries have meaning. Are they just a sexual object for men to oogle? Do we celebrate their biological purpose in relation to our kids? What happens when the symbolic, sexualized meaning we are so obsessed with clashes with the practical reality of them?

One mother who didn't like the cover explains she was concerned about her 13-year-old son seeing it.

"I shredded it,"

said Gayle Ash, of Belton, Texas, in a telephone interview.

"A breast is a breast, it's a sexual thing. He didn't need to see that."



Wow, I had no idea my boobs were so dangerous.
"I was SHOCKED to see a giant breast on the cover of your magazine,"

one person wrote.

"I immediately turned the magazine face down,"

wrote another.

"Gross,"

said a third.
Gross. Really? What about these?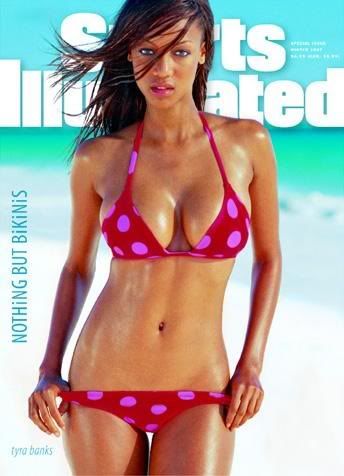 Somehow I doubt that Maxim or Sports Illustrated gets quite the amount of outraged letters that this baby magazine received. As a matter of fact, I think it is safe to say that both publications have made quite a healthy profit based on their titillating covers month after month. It's not just men's magazines either. Women don't seem to have a problem buying magazines with covers like these: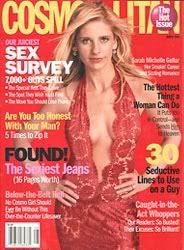 National Geographic hasn't lost circulation because of photos like this one of African tribeswomen .
And who could forget this Vanity Fair cover of a pregnant Demi Moore? This was one of their best selling issues ever.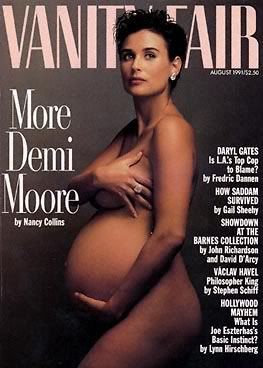 It seems that breasts are ok. Nipples, clearly are not. (just ask
Janet Jackson
). The sexualized pictures of scantily clad models are perfectly fine to put by the checkout stand at the supermarket where any 13 year old boy may see them. The nonsexual pictures of "exotic" women from an anthropological study are ok to publish. It seems that once we add a baby though, all goodness-gracious breaks loose.
Whether or not to breast feed is obviously a very personal decision. I certainly don't think that women who choose not to should be labeled as "bad mothers" either, as some
recent ad campaigns and government guidelines
are doing. The more I read about it, the more I see yet another situation where we are damned if we do and damned if we don't. If you choose to breast feed, my god don't do it in public because it's indecent. If you choose to bottle feed, you are a terrible parent who isn't providing the best for your baby. WTF?!
There are certainly benefits and drawbacks to either plan of action. Call me a
"lactavist"
, but I think people could calm down a bit on this issue. I would much rather my kid (if I had one) see a woman breastfeeding her baby, than the cover of Maxim any day.