Have you ever had one of those mornings where you just wanted to crawl back in bed and pull the covers over your head? I was seriously considering doing just that today. I was tired. My head hurt. Between work and school I've been going non-stop since January. This girl could use a break! But I was prepared to soldier on and be a productive member of society. Well, maybe I thought I could manage to drag myself into work at the very least. Then, I made a major tactical error during my morning preparations. I tried on a pair of pants that used to fit me just fine only to discover that they are a little tighter in the thigh than they used to be. And that was it. I was officially too depressed to carry on. I suddenly felt hopeless and ugly. The idea of going out and facing people today was just overwhelming. How could I possibly expose myself to the judgments and critisims of the outside world when I'm obviously putting on so much weight? Add to that my current issues with my skin (ANOTHER effing zit? gah!) and I was seriously considering calling in sick today.

Kind of stupid, huh?

I mean, with all the real issues going on the world, am I actually this concerned about my thighs?!

I'm taking a sociology course right now as part of my general education requirements for a degree in journalism. I am loving this class. The teacher is engaging, open minded and very approachable. She runs a relaxed class that encourages discussion. I have a big mouth, I like discussion.

Last week we watched a film called Killing Us Softly, made by Jean Kilbourne. The piece is about the advertisements we are bombarded with all day, every day and how they tend to portray women. Kilbourne says that we see an average of 3,000 ads a day and spend about two YEARS of our lives watching television commercials (not the shows, just the commercials!). While most people say that the ads they see don't affect them, the truth is that they really do (as evidenced from my near breakdown this morning). Advertisements have a cumulative effect. You may not run out and buy the new Ford Mustang because you saw the commercial for it, but the message of the ad works on a sub-conscious level and is reinforced throughout the day by the other 2,999 ads you see. Messages like what a woman should look like and how men should behave etc.

The point of Ms. Kilbourne's film was that women are very often portrayed as submissive and are exclusively valued for their appearance. She uses a plethora of ads throughout the presentation to get her point across. Over and over again you see stick thin women, in overtly sexual, submissive poses while men are usually portrayed as powerful and active. Not a huge shock there. I don't know a woman in this country who is totally free from the pressure society puts on us to be attractive. We are taught from an early age that "pretty" is the ideal and to deviate from that is going to have major consequences. People won't like you, you won't get a husband, you won't be valued as a member of our society, blah, blah, blah.

With all this insanity bombarding us every day, is it any wonder our priorities might be a little skewed?





I mean check out that first picture. When do you think that poor girl ate last? Yikes!

Here's the amusing part. When we talk about wanting equality in our society ie. for men and women to be valued and respected equally, part of what we are talking about is seeing more images like this: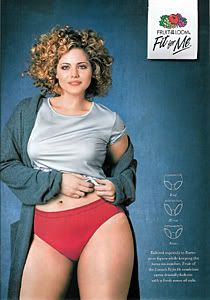 ...and one of my all time favorites...




NOT this: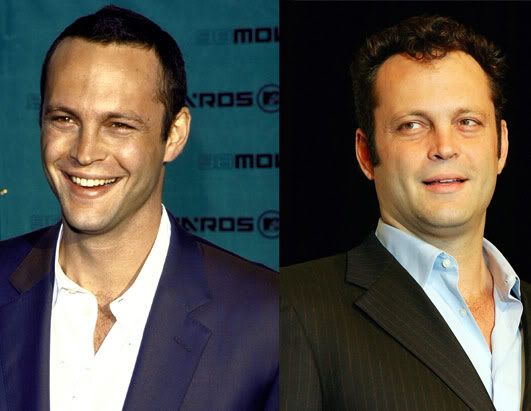 The copy reads -

Aging Gracefully?
Vince Vaughn epitomized Los Angeles' swinging lifestyle in "Swingers," when his svelte figure cut a fine silhouette in his shiny bowling shirts. Today, Vaughn covers a paunchier waistline in "The Breakup." Maybe no one told him he wasn't supposed to eat all that cake in "The Wedding Crashers."