Last post about my Sociology class, folks. I promise.

Last night was our final class. We took our last test and answered some extra credit questions about factory farming. (more about that in a minute) and I couldn't help feeling that this was a lot like closing night of a play. I've seen these people four nights a week for over a month now. It's pretty intense. We got to know each other a little bit, friendships developed, maybe even a crush or two. When you're in a professional stage production the same things occurs. You see your cast and crew almost every day and you...well, you bond. Then, one night it's just all over. The curtain goes down, you all go out for a drink afterwards or maybe a cast party and you promise to call.

But you never do.

Or if you do call, or maybe bump into each other at another audition, it's just not the same. That's how tonight felt. We all took our tests and met up at a little pub down the street. It was cool, we exchanged numbers and promised to keep in touch. I'll probably see some of my classmates around campus. Perhaps we'll even be in another class together, but it won't be the same and that makes me feel kind of...orphaned somehow.

Maybe it's just that I'm going through a really cool period of my life right now and these people will forever be associated with it. I'm just starting to realize my potential, I guess. I'm finally acting on the ideals that I've always said I believe in. Women being valued for their education instead of just our bodies, actually using my creativity and enjoying something outside of planning a wedding or making babies. Who knew? It was seriously suggested tonight that I look into going to UCLA. Me, applying to UCLA!

Damn.

I have to start applying for financial aid.

So anyway, the last thing we covered in class was something called speciesism. It's like sexism or racism only it's biased against animals. At first it sounds a little out there even to an animal lover like me. But when you think about it, it starts to make sense. Basically it's the idea that all sentient creatures have a right to live on this earth and we as human animals do not have the right to deny them that life. This is especially significant when you really get into what goes on in factory farms. I'm not going to get into the gory specifics, but it's not good. If you want to learn more about it, you can start here.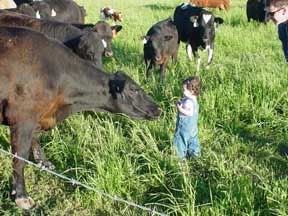 "Whatchya got there little kid?"

We watched a twelve minute documentary called Meet Your Meat in class the other night and I think I made it through about five minutes before I had to leave the room and sob in the hallway. I really should have known better than to stay for any of the film, but I guess I was hoping if I closed my eyes I would be OK. What the %@&*! was I thinking? After watching the film I'm seriously considering switching to soy milk and giving up eggs altogether. Tofu burgers are just as tasty as the real thing and soy beans don't get beaten, mutilated or otherwise abused. They also don't scream in fear. I like that about soy beans.

It's all about distance I think. I mean let's face it, how many of us would eat a burger if we actually had to raise and kill a cow? I know I would never have the stomach for it. Since our meat just arrives at the grocery stores, neatly packed and ready to toss on the grill, we don't ever have to think about how it got there. I guess I'm starting to think about it.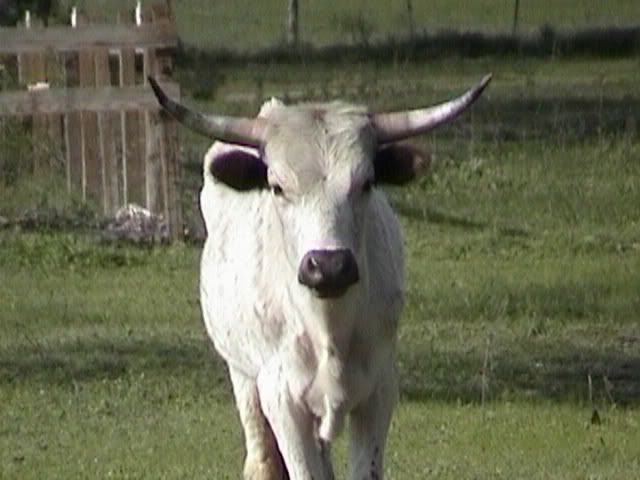 Look at those eyes and that softy little nose!

Fortunalty there are people who are trying to combat factory faming and it's terrible effects on animals, our health (ie. Avian Flu, antibiotic resistant strains of "super" bacteria) and the environment. There is one group called Farm Sanctuary that has two rescue farms, one in upstate NY and another in northern Cali. I'm thinking a road trip up north would be pretty cool right about now.

But no! I start my next class on Monday. Yep, it's on to the Health 11 and another step closer to my scholarly goals and dreams. Maybe I can ask the professor about switching to a vegan diet and what supplements a growing girl might need. Hmmm.

I doubt my Health class will be as cool as Sociology was, but then you never know...


Happy chickens!



Very, very sad chickens.